Engage your community and do more with Zelos
Manage your on-demand workforce, freelancers or volunteers in a single place. Send bite-sized jobs to the team, receive live responses, and get things done!
Start a free project!
Coordinate activities
Dispatch tasks to community members and track their progress.
See the bigger picture
Have a live overview of who is doing what and identify your most active members.
Report actual results
Get detailed data on what your community has achieved.
A task dispatch tool for community managers
Activate your community
Long e-mails, forum posts or shared spreadsheets rarely create the enthusiasm needed for getting things done.
Bite-sized tasks with a clear goal are a much better way to get people engaged.
1. Get your community members organised
Create a single point of truth for news, team communication and tasks. Zelos lets you keep track of member data and activity, and target relevant people with tasks and messages.
Your community members will also keep their own account data up to date, so you don't have to.
Database
Member profiles and activity history
Targeted task dispatch
Recruit members to tasks based on their profile information
Live communication
Activate live chats for each task, create general group chats, or enable 1:1 communication
2. Make your own rules
Create your playground the way you want to. You can easily customise the member experience to meet the needs of your project.
Member profiles
Add unlimited fields to member profiles and have them fill in data exactly relevant to your project
Task progress
Create a custom workflow for your tasks - approve participants, get check-in timestamps, request data uploads or queue everything for manual confirmation - your app, your choice!
Groups
Group members for chatting on more general topics. It's your decision whether members can join freely or need to be added.
3. Own your data, own your audience
Unlike many social networks, Zelos lets you take charge of the community experience. Your community members still have full control over their personal data.
Encrypted workspace
Zelos is not a social network - the community experience is between you and your invited members.
GDPR compliant
Members can request their profile to be anonymized, but their contributions so far will remain in the workspace.
Reports and history
Track and report member activity and other relevant KPIs for your community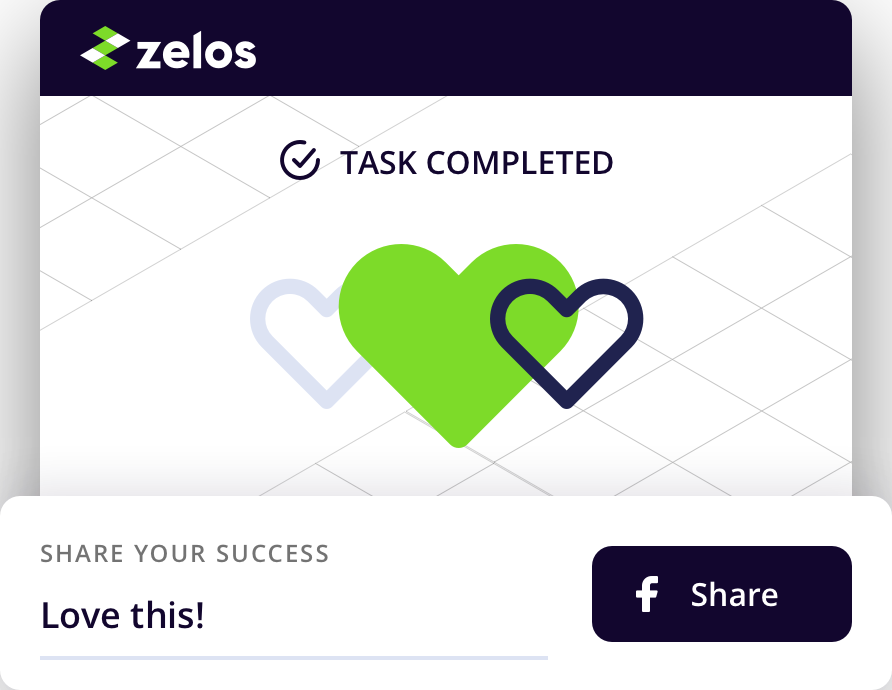 Clear goals drive great engagement
Choosing your own tasks results in higher commitment and accountability
When members pick up tasks from a list, they are more likely to stick to the job until the end.
Without an administrator appointing and assigning, community members tend to be more proactive and responsible about reaching the collective goals.
1. Just get things done
Zelos is extremely easy to use, and no training sessions are necessary.
The app will show you all currently open tasks, and offer a single button for signing up.
Easy to use mobile and web app
Single button interactions - not much chance to go wrong!
Push notifications or emails
Choose your favorite channel for targeted smart notifications = no excessive or irrelevant information
Live and current state of things
No outdated info, old emails or expired tasks. What you see in the app is the most recent state of things.
2. Clear steps and task instructions
Zelos will clearly state what needs to happen next and when, so you can spend less time figuring out what you should be doing and more time doing it.
The community manager will set up the steps to follow, so each project can have their custom workflow.
Check in
Check in at a location to report your presence
Submit data
Upload an image or paste a text snippet to auto-complete the task
Administrator approval
An administrator will manually check on the progress and approve the progress
3. Earn rewards and track your progress
Gamify your community! You can display public leaderboards for the top achievers of the week, and hand out rewards for your best community members.
Points and badges
Earn points and badges for each task that gets done
Leaderboards
Check your progress against other community members