With over 100,000 cases around the globe, it is time for everyone to take action in the fight against COVID-19. The best way to keep medical services available for those who need them is to avoid social touching and wash your hands constantly.
Here at Zelos we know that the Coronavirus crisis will particularly hurt the event, festival, and nonprofit sectors. That's why we have created a game plan for these harsh times:
We Now Work From Home (And You Should Do It Too!)
Starting today, the Zelos team will be working from home for the foreseeable future. This is mandatory. We are doing Monday kick-offs and Friday wrap-ups virtually. We will keep an eye on our local health department updates and will follow the most risk-averse recommendations until we are sure we can go back to our office.
What Zelos Can Do For You
Here are some  ways to activate your local community to help during the crisis, using the Zelos task management app:
Quickly set up a grocery-delivery system for those in need so they don't have to come to the food bank.

Organize volunteers so they can video call isolated senior citizens to check-in with them.

Crowdsource items that you need, like sterile gloves, medicine, or anything else that might not be quickly accessible.
We help you to keep doing more with less resources. And your messages won't get lost in the thousands of posts now crowding social media and email inboxes since we go straight into your volunteer's smartphone.
IMPORTANT!
Thanks to your participation, our Community Helpline add-on was a great success during the height of the coronavirus crisis in the European Union.
The Community Helpline add-on is no longer being supported, but is still available by request. The Zelos core app is still available (and free for teams of up to 30 members!).
Introducing Our Coronavirus Crisis Management Webinar
From our respective homes, our experienced team of volunteer coordinators will begin a webinar to help you cope with the crisis. From hosting online meetings to keeping your volunteers morale up, we hope our articles and videos help you in these tough times.
These resources will be FREE and will not require a Zelos account. You (and your industry friends) can sign up here: https://getzelos.typeform.com/to/RdSGzs. We will send you email updates separately regarding new webinar materials and livecasts.
As of now, we have published an extensive list of cancelled events with basic recommendations and a step-by-step on how a small nonprofit can transition into virtual management.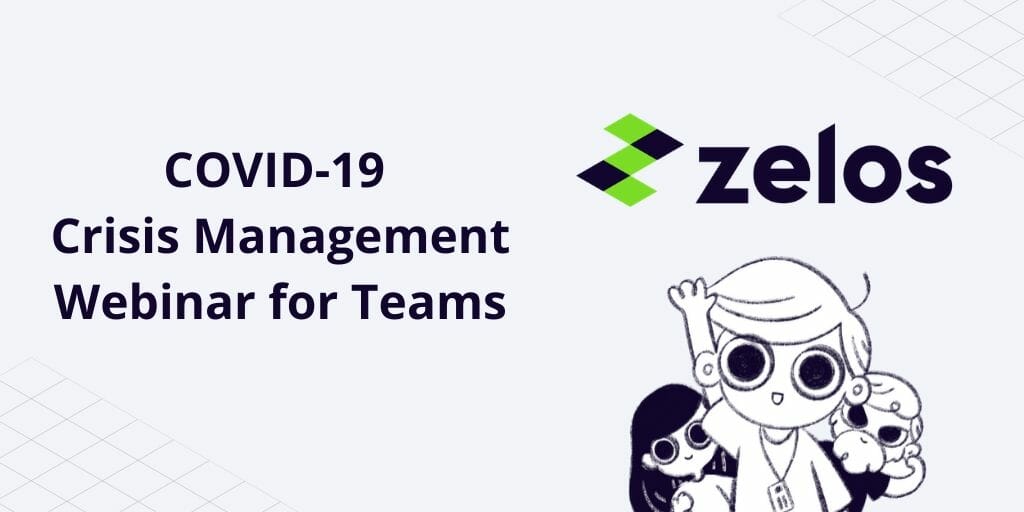 We Now Have An Ongoing AMA (Ask Us Anything!)
We know each organization is different. If you have a question on how to deal with the crisis and we have not published something about it, please send it to ask@getzelos.com. 
We will reply to you and —with your permission— share any insight publicly. If you prefer, you can also join our Volunteer Network in Facebook and ask your question there.
We Will Keep Calm And Carry On
We will continue working on improving our online volunteer management tool. As more people have to stay home, we know that there is an urgency on keeping volunteers engaged and contributing to a variety projects. Connections, including digital ones, is what matters the most during uneasy times.
It is time to make the most of virtual tools and learn how to outreach your community through social media and digital options. If you have an account but need help with it, reach out to support@getzelos.com and we will help you. 
Our Free tier will remain Free for the foreseeable future. If you have a fellow festival coordinator that could use Zelos to run things remotely, tell them to open an account and start creating tasks and groups.
Some Final Thoughts And Positive Vibes
It's okay to be afraid of the situation, its economic fallout, and what it means for your industry. More than half of Zelos clients are live events or nonprofits, and although we are considered an up-and-coming startup, our rainy day fund is not unlimited. We are struggling volunteer coordinators and artists too, working every day to keep the lights on and food on the table. But most of all, like Rocky Balboa, we know that we are resilient and always go for the distance.
We will continue to offer anything we can to support your project as we deal with cancellations and quarantines. Zelos will continue to educate and connect, because our team believes in the kindness of strangers and that we are stronger together.
With love from all of us,
Johanna-Mai Riismaa | Founder & CEO | Zelos Volunteer Management